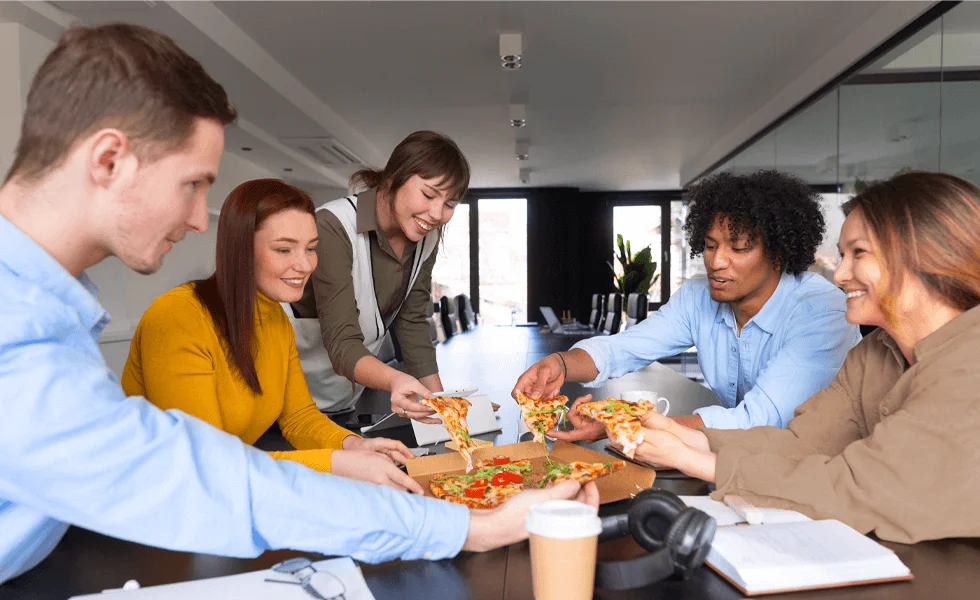 Plan an Unforgettable Luncheon with Tikkas and Takkos
If there's one thing we can all agree on, it's that workplace lunches can be either dreadful or a lovely escape from the daily grind. Most of the time, authorities fail to organize a good office lunch system, and that's how people start hating these mundane lunch breaks. However, there are exceptions to it, especially when you choose professional corporate caterers for this purpose.

At Tikkas and Takkos, we believe in changing your dry midday breaks into something special—an experience that stays on your palate and brings your team closer together.
Why are Office Luncheons Such a Big Deal?
Let's be honest, this 9-to-5 job routine feels like running a marathon at times. On top of that, a boring and bland luncheon hardly helps to lift the spirits of the team. This is where the importance of a terrific office lunch lies. It keeps your team excited and hooked. Employees have something to look forward to after a long, tiring period of constant work.

Imagine getting a variety of mouthwatering, sizzling foods on your table after hours of draining work. Who wouldn't want that? Even if it's for a brief time, you'll definitely love it and wait for it excitedly every day.
Ditch the Bland Cafeteria Food
Eating in the cafeteria is only good when you do it once in a while. No one really likes to have stale food in the office canteen. Life is a constant state of change, and that's why it's crucial to let your palate experience different foods. And that's where our food truck catering comes into play.

You can wave goodbye to boring office meals and welcome our exciting Tex-Mex and Indo-Pak cuisines. From the best tacos in Houston to the tender, meaty BBQ of Texas, we offer a wide and diverse menu for your staff. Our juicy burritos are the life of the party, bursting with savory flavors that redefine the office lunch game.
Make your Luncheon Fantastic
Everything on our menu matches your team's preferences and brings an explosion of aromas to your workplace. Whether you're in the mood for a spicy ride of flavors or a gentle blend of textures, we are here to cater to your needs. Vegetarian and gluten-free cuisines are also on our menu plan because we take care of every member of your crew.

Being a top tier catering service, we can assure you that our amazing food will infuse your team with new energy and vibrancy. Once our food arrives at your workplace, the air will be filled with a tantalizing aroma that will gather everyone around for a fantastic feast. Our experts create food that engages your nose, eyes, and taste buds simultaneously.
Great Deals that Will not Break the bank
Now you must be wondering, "Yeah, the food is great, but what about its cost?" Don't worry; we have you covered on this one too. Our affordable catering service offers budget friendly deals for corporate luncheons. You just have to ask for our best deals while ordering, and the rest is on us.

In short, you will have excellent quality food that won't even exceed your budget limitations. What else can one want?
How to get started
Are you ready to plan a memorable luncheon for your office with our full service catering? It's very simple to order and get booked. Reach out to us at +1 (832) 731 4242 or contact@tikkasandtakkos.com, and we'll work with you to craft a menu that fits your team's requirements and budget.