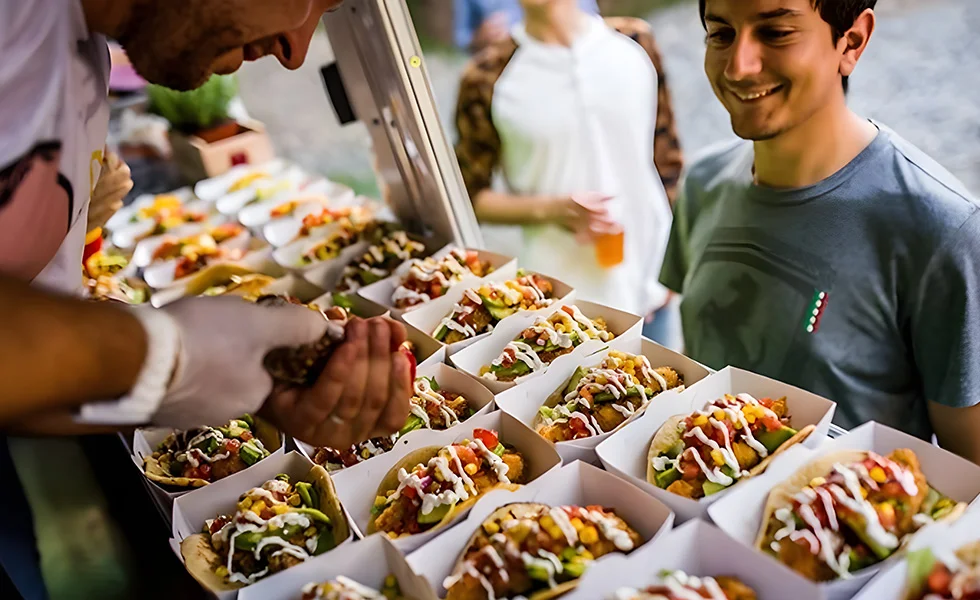 The Popularity of Food Truck Catering
In recent years, food trucks have driven their way into the hearts of food enthusiasts and event planners alike, making food truck catering a popular choice for an array of occasions. From weddings to corporate events, festivals to private parties, the rise of food truck catering signifies a paradigm shift in the catering industry. It's no longer about traditional, static catering options but about delivering diverse, delightful, and affordable culinary experiences.
Weddings: A Unique Dining Experience
In weddings, where love and happiness prevail, the choice of food can significantly influence the event's ambiance and guests' memories. This is where food truck catering carves a niche for itself by offering a unique and unforgettable dining experience.

The charm of a wedding food truck is that they bring a level of personalization and immersion that traditional catering often lacks. This isn't just about serving food; it's about crafting an exceptional culinary journey.

Food trucks, for instance, offer couples the opportunity to curate a customized menu that reflects their tastes and preferences. Food trucks can cater to a wide range of culinary desires, ensuring that every guest finds something to relish.

What sets food truck catering apart is its versatility in terms of both menu and setting. The menus are often flexible and adaptable, and food trucks can be parked right at the wedding venue, providing a seamless dining experience for guests.
Corporate Events: A Fresh Approach
In the corporate world, innovation and fresh perspectives are essential. This ideology extends to corporate events, including conferences, meetings, and team-building retreats. And food truck catering offers just that – a fresh approach to catering for corporate gatherings.

One significant advantage of food truck catering is the ability to serve large groups efficiently and speedily. Attendees at corporate events appreciate the quick service and diverse menu options that allow them to return to their agendas promptly.

For the organizers, food truck catering is a cost-effective choice. The best affordable catering services in the form of food trucks don't compromise on quality. A variety of cuisines and dietary options can be made available, ensuring that every participant's needs are met.
Festivals and Fairs: A Perfect Fit
For festival and fair-goers, food is an integral part of the experience. The sight and smell of sizzling dishes from food trucks have become an indispensable element of these events, enhancing the overall atmosphere.

Food truck vendors add a vibrant and dynamic element to festivals, creating a lively and engaging ambiance. Their offerings often reflect the unique spirit of the event, whether it's a cultural festival, a music concert, or a local fair.

In a city like Houston, known for its culinary diversity, food trucks shine. They serve up global flavors and local favorites, allowing festival-goers to embark on a culinary journey in a single venue.

What makes food truck fare even more appealing is its affordability. It's not just about the best food truck catering; it's about the best value for the variety and quality of food you receive. This aligns perfectly with the spirit of festivals and fairs, where attendees seek a wide range of options without straining their wallets.
Private Parties: Adding Flavor to Celebrations
Last but certainly not least, food truck catering has made its mark in private parties, adding an element of fun and flavor to these intimate gatherings. Whether it's a birthday bash, an anniversary celebration, or an outdoor family reunion, food trucks bring a touch of excitement and unforgettable tastes to the festivities.

These mobile kitchens can transform your backyard into a pop-up food haven, offering your guests a range of mouthwatering dishes. From finger foods to delectable desserts, they cover every aspect of your culinary needs.

The affordability of food truck catering is especially appealing for private parties. It allows hosts to provide their guests with a variety of high-quality cuisine without breaking the bank.

In a city like Houston, where culinary excellence abounds, the presence of food trucks in private parties elevates the overall experience. It adds an element of surprise and excitement, ensuring your event is etched in the memory of your guests as a truly exceptional gathering.
Wrapping Up
The meteoric rise of food truck catering in recent years is a testament to the ever-evolving culinary scene. Food trucks are now a sought-after choice, from weddings to corporate events, festivals to private parties, showcasing their flexibility, cost-effectiveness, and diverse menu options.

Offering the perfect blend of best affordable catering services and exceptional quality, food truck catering caters to a wide range of occasions and provides a unique dining experience. This catering style is all about personalization, immersion, and culinary excellence, ensuring both hosts and guests have a memorable and delicious experience.

So, the next time you're planning an event, consider the dynamic and delightful world of food truck catering. It's not just about food; it's about crafting unforgettable memories through fantastic flavors.