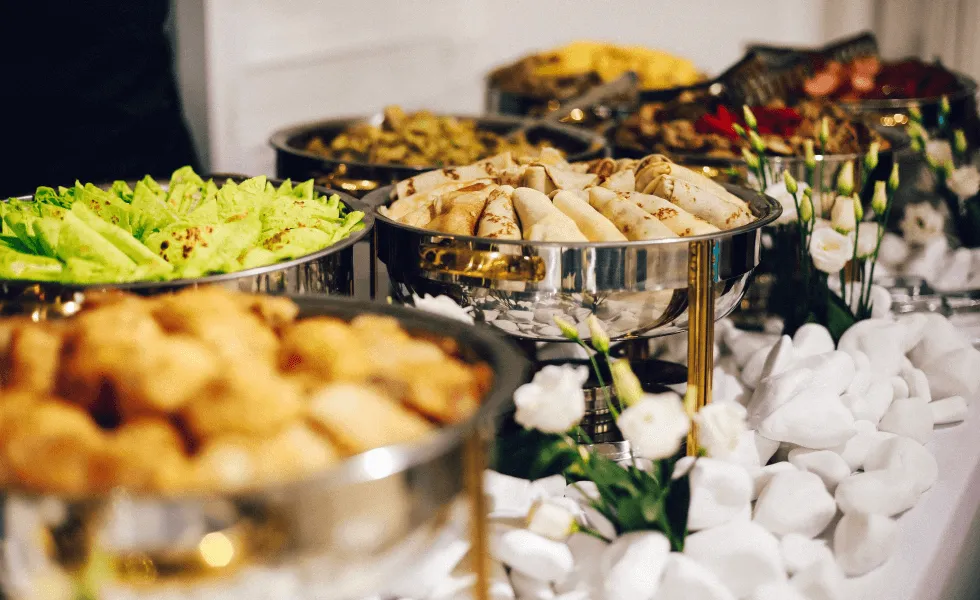 Mark your special day with Tikkas & Takkos Catering!
Weddings, birthday parties, and engagement parties all present significant challenges if not properly planned. The objective of these events is to accommodate the guests and cater to them in all aspects. To achieve this, we have to carry out extensive research of our own on food, decorations, and other entertainment. This process can be very demanding!

Food is an integral part of any event. Some will say that food is the most memorable part of an event. However, it can also be memorable for the wrong reasons if left in the wrong hands. This is why you need to be extra careful while selecting the food vendor you want to use for your special event.

Having a good caterer means that you don't have to spend your valuable time in the kitchen, thus allowing you to spend more time mingling with your guests. This is where Tikkas & Takkos Catering comes in. Read on to learn what distinguishes them from the competition and what to expect after you hire them.
How is the food sourced?
When looking to hire a caterer, the primary concern should be the quality of the food. Many caterers try to offload low-quality ingredients in their food. This practice ruins the experience for you & your guests and leaves a bad taste in your event.

What you do want to see, however, are organically sourced ingredients. This is where Tikkas & Takkos excels, as all the food they offer is made with the finest ingredients. Moreover, their culinary skills bring out the best flavors of the famous dishes that they offer.

In a nutshell, you get food of the highest quality across the board.
On the day of your event
The last thing you want is to be tense and worried about making arrangements on the big day. Besides the time constraints & the stress, many people just don't have the means to facilitate these arrangements.

This is why you need a vendor who takes this responsibility off your shoulders. Serving your guests and bringing all their equipment is one of the many attributes of Tikkas & Takkos' catering services. This means, on the special day, all you have to do is to come and have fun!

Sounds good so far? Let's check out the delicacies on offer!
Experience the thrill of fusion food
Moving on to the fun part, which is the menu! With the plethora of options on offer, it can be challenging to choose what would serve you best. The catering menu at Tikkas & Takkos, however, is very versatile & highly inclusive. All their food is Halal food with a ton of vegan options for guests with dietary restrictions.

Their food consists of South Asia's finest Indian barbecue cuisine infused with Texas' favorite Tex-Mex dishes. The vegan alternatives also follow the same footsteps, with the use of paneer, beans, and veggies. With a healthy amount of sides & desserts, they make sure no one goes home on an empty stomach!
Interested? Here's what you should know before hiring a catering service
Regardless of which caterer you go ahead with, you must know these basics. Firstly, you need to know the time and date of your event. Inform the caterer of this along with the venue to see if they'll be able to cater to you.

The second question you'll need to answer is the number of attendees expected. This will help the caterer provide you with a better quote for more affordable catering. Thirdly, inform the vendor about the nature of your event, and feel free to make any requests. This could include having the catering staff follow a certain dressing theme, for example.

After you're done with these basic questions, you can also request changes to the menu. Most caterers can be contacted through call, however, Tikkas & Takkos allows you to choose the mode of communication for yourself. You can call or simply visit their website to complete the booking process online.

Phew, you're finally able to get a caterer that'll elevate your guests' experience. Want to make things even better? Try to incorporate these slick tricks into your events:
1) Have the caterer arrive an hour ahead of time to give them time to set up

2) Make sure to keep limited dinner items to avoid overfeeding your guests and making them drowsy

3) Make sure to ask if they offer discounted rates for children's meals

4) Read a lot of reviews & check for past experiences

5) Thoroughly go through every detail to a T.
How to hire a caterer without breaking the bank:
Affordable catering is hard to find. However, some caterers definitely provide you with the best value for your money. Try to negotiate with them to get a bargained but fair price. Remember, saving money might be important but overdoing it can bring down the food quality significantly.

You can also opt for a buffet instead of plated dinner at your event. This brings down the service costs & also saves some cash on the food. Moreover, your guests can eat exactly what they like, and how much of it they want to have. Try dishes that use in-season ingredients at your event, as they are usually cheaper than harder-to-find ones.

Choosing disposable flatware is also a very viable option. With a ton of elegantly designed disposable cutlery available on the internet, they are for sure a money-saver.

Many caterers also offer food packages for events. These are food items specifically curated for events like weddings. Choosing a package will end up saving you a lot of money as compared to a la carte.

To make sure you're within your budget, you can also have a conversation with your caterer. After you specify your budget, you'll be able to find a solution that fits both parties. In order to avoid any issues with pricing, it is highly advised that you take this matter up as soon as possible. A word of advice would be to keep a straight balance when negotiating, to keep things just and fair.
Final thoughts
It's understandable to want everything in order for your main event. With timely due diligence, this is entirely possible. With the help of the internet and all the facilities available, you can make this whole process painless. All you need to do is to verify and be optimistic!

If you've chosen a good catering service with the tips I've mentioned above, you're on track. They'll take care of everything related to food in your event, giving you total peace of mind. That'll help you enjoy your event rather than having to indulge in draining activities! With that, I hope your event goes extremely well. That's all for now though, until next time, see ya!
Need your event catered to? Contact Us
Tikkas & Takkos Catering service is the choice for small events, corporate parties, weddings, birthdays, and other special occasions. We guide you every step of the way till the date of your event. This is due to our commitment to your total satisfaction. You can book your event today by going to their website or calling 832-731-4242 to speak with a representative. Book ahead of time to make sure you don't miss out!