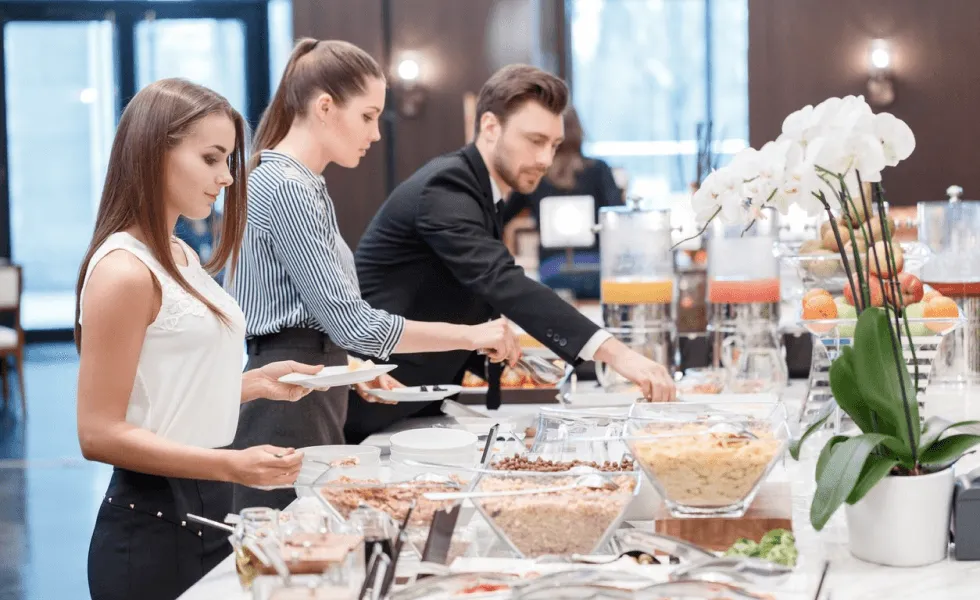 How to find the Perfect catering service for corporate parties
Occasional office parties are necessary to keep employees fresh and in good spirits. The key component in any party, however, boils down to the quality and variety of food on offer. In more ways than one, it is the most memorable part of an event. Hence, it's imperative that you get it spot on in terms of quality and quantity, while staying within your budget. This can pose a major hurdle for event managers & coordinators. In this blog, you'll learn about all the things you need to look out for in a corporate events caterer. These tips are surely going to make that next event of yours become a classic in no time!
How do you find a catering service?
The first major step is to be on the hunt for multiple caterers in your area. The internet is your best friend for this purpose, as a lot of caterers have expanded their online presence. They've done this in order to easily reach out to corporate customers like yourself.

There are a few ways to go about this. In order to work efficiently, however, you have to specify a few filters from the beginning. This can be the type of food you're looking for and the location your event is going to be held at.

Let's assume you're looking for a Mexican food catering service, based in Dallas, Texas. Simply googling "mexican catering near me" would bring up a lot of caterers serving mexican food. But a big chunk of them would not be close to your area. Hence, you'll end up spending a lot of valuable time on unfeasible options.

Once you've got the basic requirements down for your event, simply search for caterers using social media platforms, major food review and ordering sites like TrustPilot and GrubHub, or go through the search results on Google to find individual websites. Shortlist the ones that interest you and start the process of weighing their pro's and con's.
Found a catering service? Here's how you can find out if they're a good fit for your event
The main thing to look out for is simple; The food on offer. Go through the shortlist you've created and check out each catering provider's menu card. Look carefully through the variety they provide, and how they source the ingredients. Remember to always take an inclusive approach and verify if the food meets certain employees' dietary restrictions. A menu card with Vegan options & Halal/Kosher certification is probably a good choice.

After you're satisfied with the food, it's time to think about just how many people you're looking to feed. Small-sized catering providers may not be well-equipped for larger parties. Similarly, catering providers that usually work with large scale events may overcharge you for a smaller party. As a result, it's important to know the magnitude of the event you're going to hold. Having this conceptualized will help you stay within your budget & provide a satisfactory experience.

Another thing you should look out for is whether they are specifically a corporate events caterer. For the best experience possible, it's important to hire a catering service that knows what it's doing. Browse through reviews or simply inquire about the event caterer's experiences with corporate parties. Finding dedicated corporate caterers brings a lot of personality & professional customer skills to your event.

While browsing through the reviews, look out for what people have to say about their experience. Read about whether they were punctual in arriving at the event, and if the quality of food was satisfactory. You might also want to make note of a few things you may need to inform caterers in advance. This is why reading the reviews of fellow business owners & event managers is crucial to the caterer hunting process.
Choosing the perfect food for a corporate party
Deciding on the right type of food plays an important role in any event's success. Depending on the nature of your event, you can make the right decision and cater to your guests better. A corporate events caterer that provides plenty of vegan, gluten-free, and Halal or Kosher certified items is a safe bet. But since these are people in a professional setting, it is also important that the food is less messy.

Go for more food items that are easy to eat rather than complicated dishes. Keeping the complicated ones for just the main course is a viable option. This ensures that your party doesn't get drowsy due to a heavy lunch or dinner, always keeping their spirits high.
Start asking the right questions about pricing, menus, and availability
Before coming to a conclusion, interview the catering company with a variety of basic & complex questions. This allows you to get a better idea of exactly what you're getting, leaving little room for surprises.

Start with asking for the availability at your desired dates. Then, proceed with asking for a breakdown of their per-plate costs in order to determine their pricing. After you're satisfied with the pricing, inquire about how many guests they can accommodate. Once that is also cleared, you should go ahead and ask about their specialties. This is where we delve deeper into our research of the catering service.

Ask if they serve only A la carte or do they provide food packages. A la carte meals allow you to add versatility to the menu and can significantly surprise guests. If your corporate event will be having families of employees over, also make sure to ask about children's meals.

Coming to the money side of things, keep the slate clean with your catering from the get-go. Ask about their payment, refund, and cancellation policies in case your event goes awry. You can also inquire about their overtime fees beforehand.
Ask about how long they take to set-up, what they require, and their venue flexibility
Avoid any last minute mishaps by inquiring in advance about the arrival of the caterers. Plan your event according to the estimated time of arrival provided by the catering company. Even though most caterers bring their own stuff, it is safer to just verify.
The Verdict
Finding caterers can be a daunting task, especially if you don't know what you're doing. I do hope that the tips I've provided above help you in making the right decision for your party. At the end of the day, any corporate events caterer that you choose must only benefit your event. Keeping that in mind, it is also important that they do this while maintaining high levels of professionalism.

If you still are struggling in your search for caterers, I would highly suggest that you go with your gut. If you like the menu on offer and how the food is sourced, go for it! These should always be your primary causes of concern.

That's all for this time though, and I hope you were able to learn a few new ways to elevate your office events. I hope this blog helps you find the perfect corporate events caterer who can brighten up your corporate parties.