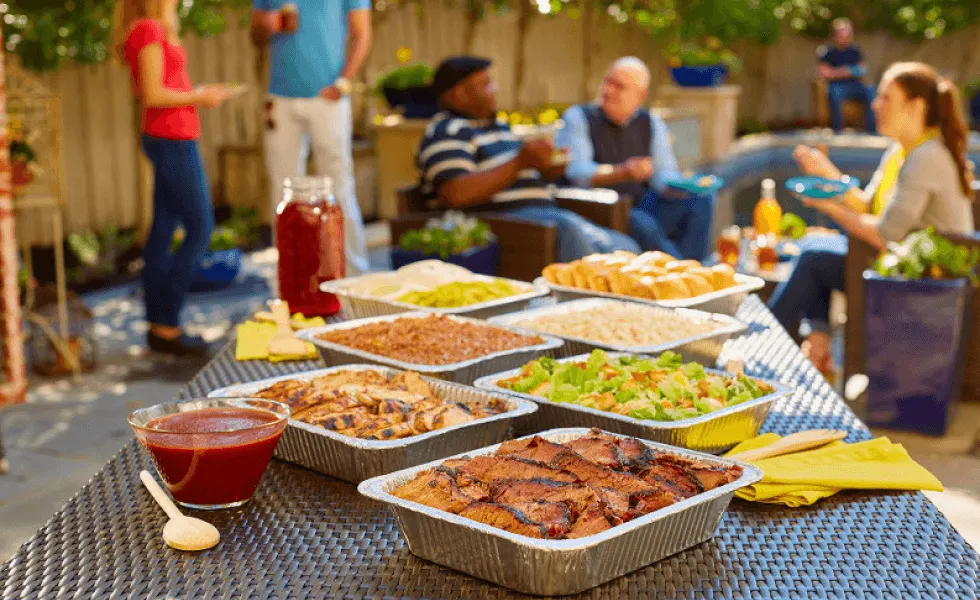 Exploring new tastes? Here's 10 MUST-HAVE foods on your Catering Menu
A large number of people try to play it safe when it comes to items on their catering menu. However, adding a bit of variation can be refreshing. Moreover, having foods that cater to a wider audience also helps in making your event successful.

You might be wondering what having variations in food means. This means having a healthy balance of appetizers, entrees, desserts, and finger foods across the menu. Sprinkle in some organic, gluten-free, and vegan options and you've got the all-inclusive food menu.

Apart from the basic distinctions mentioned, you also want to take care of your guests. This means keeping their health concerns at the back of your mind while planning the menu.

Now that you're all caught up with the types of food you should have, let's learn more about each one.
Tease your guests' taste buds with tantalizing Appetizers
To end on a high, you must start with one. Appetizers give you the opportunity to create excitement in your guests for the rest of the menu. Hence, it is essential to plan them in a way that they don't become overbearing.

Since you plan to give a taste of what's yet to come, it's good to start with simple appetizers.
1. Quesadillas:

These flavor-rich tortilla wraps are a great option for appetizers. The combination of beef/chicken, cheese, tomatoes, green peppers, and salsa sauce makes this dish zesty!

2. Tacos:

Straight from the best Houston food trucks, you just cannot go wrong with tacos. They're a lightweight snack that is fiery enough to tingle your guest's taste buds. No matter the palate, your guests are bound to enjoy this goody-filled tortilla wrap.
Keep the appetite alive with inviting finger foods
You want the attendees at your event to keep their mouths moving. While they must have a lot to talk about, sometimes it's better if it's due to food. Finger foods help you achieve exactly that. Check some of these out
1.Chips and Queso/Guac:

Amongst the most reliable finger foods, the tanginess of the sauces aids in bringing the most out of this delicacy. The crunchy dish incorporates spice with a world of emotions, making it a potential headliner at your event.

2.Cup of Corn:

Let's face it, everyone likes a cup of corn! If you like to play it safe with the food on your catering menu, this salty snack is the one. The flavor of the corn itself is enough to satisfy the consumer!
Time for some mouth-watering Entrees
With entrees, there's just so much you can dive into. For this list. however, I'll be introducing you to the flavors of Indian cuisine. These dishes are filled with flavor, spice, and authenticity. It is exactly what makes them so special!
1.Tikka Entrees Over Rice

A must-try dish for any newbies, tikka entrees offer a whole new world of flavor. Marinated with different blends of spices and cream, this Indian BBQ delight is sure to win over your guests. This dish is served over rice, which compliments the fiery taste of spicy, tender chicken or beef.

2. Beef Kebab Over Rice

Succulent beef skewers served with rice and veggies. The sauce, the flavor of the minced, juicy beef, and the combination with rice makes this dish irresistable! If you're looking for a dish that'll fulfill the hunger of your guests, add this to your menu.
Sweeten everything up with some desserts
Who doesn't like desserts? After all the foods your audience has feasted on, your dessert must be something they save some space for. Check a few of these must-have desserts
1.Featured Cake Slices:

Pastries of delicious cakes are bound to fulfill the sweet tooth of everyone. You can choose from a variety of cakes, but my suggestion would be to keep it simple with a tiramisu cake!

2.Gulab Jamun:

If this is your first time hearing about this dessert, you have to try it out. This dessert has been around since the 19th century and is unanimously popular in South Asia. The best part is, it's extremely light yet still very savoury!

3.Gulab Jamun:

If this is your first time hearing about this dessert, you have to try it out. This dessert has been around since the 19th century and is unanimously popular in South Asia. The best part is, it's extremely light yet still very savoury!
Vegan options you should consider adding
You may have guests with dietary restrictions. By looking out for them, you make sure they don't ever feel out of place! These vegan-friendly dishes are so good, even your non-vegan guests will want a bite!
1.Bean & Cheese Burritos:

This tex-mex infused dish provides the same authentic taste of burritos with a beany twist! The best part about this dish is that it's completely vegan-friendly & gluten-free.

Previously available solely at houston food trucks, but now can be a part of your catering menus!

2.Paneer Tikka Over Rice

A wholly vegan entree with no compromise over taste. Make sure your vegan guests get to enjoy delicious South Asian food with this curated dish.
Why you should try Indian cuisine foods
You might not be confident trying out dishes your guests haven't ever tried. That's totally understandable, but here's a few things you need to know to put your mind to rest. Indian cuisine relies on its spicy nature to shine.

The rich, creamy flavor intoxicates everyone that eats it. These dishes have been around for centuries and there's a great reason for it! It all lies solely in intricacies involved in their preparation.

Not just the entrees, but the appetizers like puri paratha wraps and even the desserts speak for themselves. Indian cuisine is filled with savory treats waiting to be discovered!
The Takeaway
With this pick of foods for your next event, you're all set for a blockbuster. With everyone catered to, and a host of new dishes for your guests to feast on, it just can't go wrong. Whether its a small party or a huge corporate get-together, having these dishes will not disappoint!

That's all for this blog though, wishing you all the best for your event!