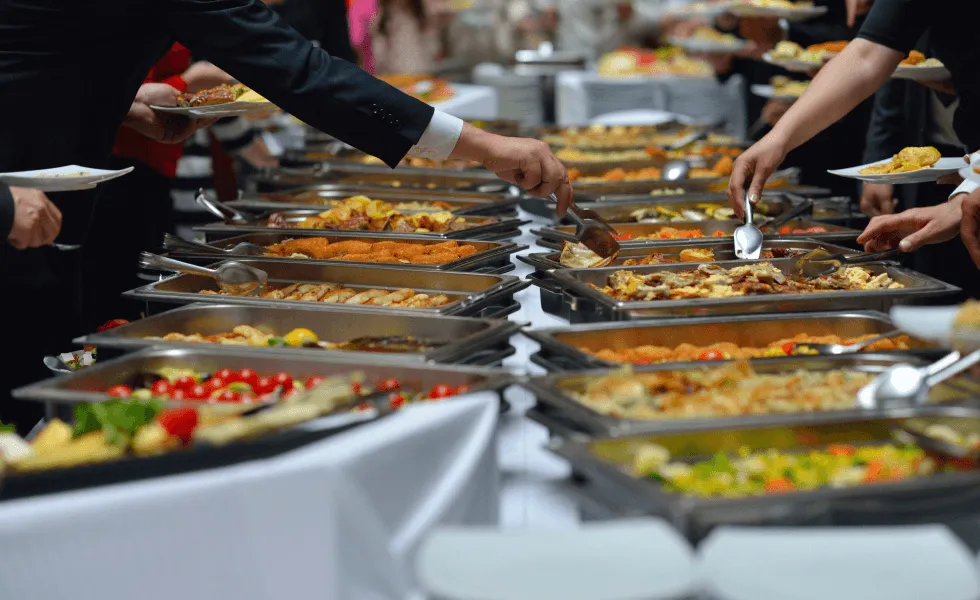 How to find the How Much Do You Tip a Catering Buffet?
Catering buffets are convenient options for any event, wedding, or gathering. One thing that often comes to people's minds is how much to tip. In this blog, we will consider some factors that we should consider when determining the appropriate amount of tipping for their top tier catering In this article, we will also learn about tipping and why we should give it.
Understanding the Role of Tipping in the Service Industry
Tipping is the act of rewarding a person or business with an amount of money. It's extra money, and you give it to others for their amazing services. Tipping is more common in restaurants or food services. Normally, you give someone a tip or gratuity when you are satisfied with the service and all arrangements have been made professionally and flawlessly by the catering company.
Factors to consider when choosing a buffet:
There are several factors to consider when deciding how much to tip your caterer. These are:


Service level:



The most important factor to consider in pricing is the quality of service. If your catering staff is friendly and committed to providing the best experience for your guests, you should consider tipping as a gift.



Event size:



Consider the size of the event when offering a catered buffet. A small tip is recommended for small events, and a large tip should be considered for large events. This shows your appreciation for the hard work and excellent service of the catering staff.



The complexity of the event:



If you have requested additional items and arrangements from the caterer for your event, be sure to tip them for their friendly and helpful service and acknowledge a job well done.



Service cost:



The service charge also determines the amount of the tip. Consider paying premiums that exceed the standard amount.



Overall satisfaction with public catering services:



We advise others and appreciate their services to make your day, gathering, or celebration special. Therefore, if you are completely satisfied with their services, please transfer the money and thank them.
How Much to Tip a Catering Buffet:
The general tip should be 15-20% of the total tip amount. Below are some tips to keep in mind when tipping.
If your caterer went above and beyond to provide exceptional service, you should consider tipping more than the standard bill.
If a service charge is added to your bill, you do not need to add a tip. So check your contract before finalizing your catering bill.
Giving money is a way to show appreciation for someone else's hard work. So even if it is little money, give them little money, but don't let them down because they will try their best to do their best for the event.
If you cannot afford to give them money, the best alternative is to bless them with positive and good words. This is another way to show them your appreciation.
Who Should You Tip at a Catering Buffet?
When hiring a catering company, you will see different types of staff who are responsible for different areas of the event. These include bartenders, chefs, and so on.
Servers:

If the event was exceptionally successful, tip 15-20% of the total bill to catering buffet servers to show your appreciation.



Bartenders:

If you have organized a separate bar foyer event, then give them 15-20% for their friendly behavior and servings to the guests.



Support staff:

these are the behind-the-scenes staff. They include dishwashers or other staff. Give them 5-10% of the tip for their incredible services.


Read More: Save Money Without Sacrificing Quality With Affordable Wedding Catering
Conclusion:
There is no doubt that wedding preparation can be stressful, but choosing affordable wedding catering can help to alleviate your financial load. You may have a lovely wedding with tasty and high-quality cuisine that you and your guests will adore if you conduct adequate research, set a budget before arranging the event, and choose the menu items. Remember to prioritize your preferences and desires. A wedding is about celebrating your love without breaking the bank.
The catering manager and coordinator play a crucial role in catering service. They always ensure that the events run smoothly and you get the best services. However, it is not necessary to tip them, but if you feel like they have done a great job, then you can tip them to show your appreciation.
There are many alternatives to show your appreciation to the staff instead of tips. You can leave a thank-you note or a positive review, which will also help others learn about their services.
If you didn't enjoy their service or meal, you should always bring it up with them. You may still offer them a tip to show your appreciation because their tip is not representative of the food quality or service.
You should aim for 10–20% of the total catering bill. However, you can tip more if you think their service was exceptionally amazing.