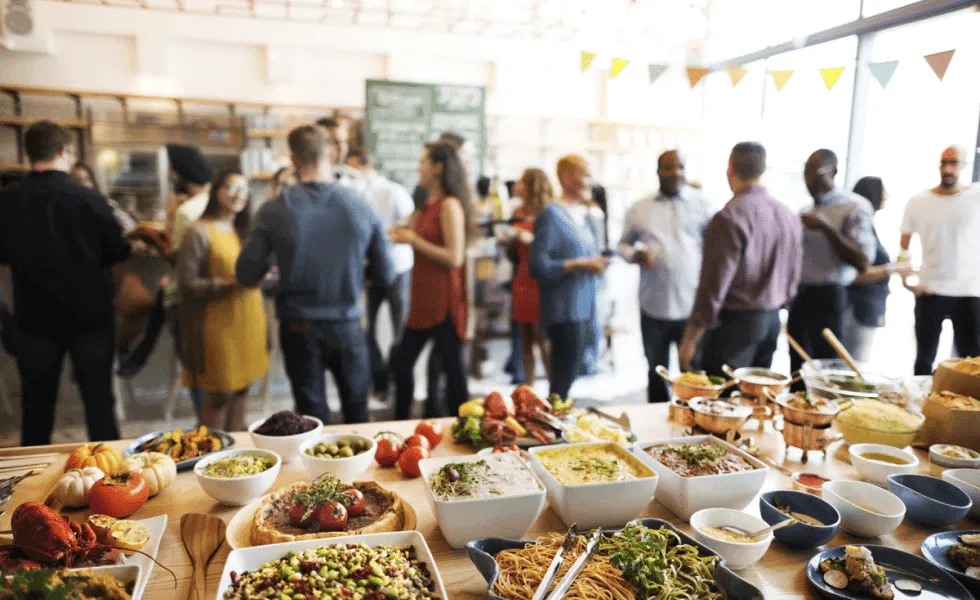 Learn how a good catering service can make your event better
When you're about to host an event, what is your biggest worry? It is collectively thought to be the food at the event. And why shouldn't it be? You can just about make do with everything else other than food. Hence, yet another question arises: How do you arrange for savory food at your event? The answer is simple. You hire a good catering service.

Still not ready to hire someone to cater to your event? Read along to find out how you can make your event shine!
A Shortcut to a great event
Hiring a caterer takes the stress out of planning an event. You can use their services to plan the menu and bring in entertainment. However, it's best not to hire one who will handle all aspects of your party.

A professional caterer is knowledgeable in different types of cuisine. They are able to work with you to create a menu that fits your guests' preferences. They can also provide entertainment for your event while you do other things.

If you have a large group coming together for your wedding or another event, hiring a catering service is non-negotiable. Having one company handle the main aspects of your party saves time and money. These resources can be used more efficiently elsewhere on your special day.
Get a helping hand with your venue
A caterer can help transform your venue into the ideal atmosphere for your event. A caterer can create the perfect setup and menu for your event. A caterer can be a great asset to any event, especially if you want to add some flair with special elements to your catering menu.

A caterer can help with food preparation and delivery, as well as set up, clean up and breakdown of equipment used during an event. The important thing is that the food you serve is fresh and appetizing so that everyone attending has a memorable experience at your next event.
The Event All-Rounder
Catering services take care of more than just the food and drink. They can be used for a variety of events, including weddings, birthdays, graduations, corporate events, and more.

A catering service is an important part of any event where guests are going to be served food and drinks. It is important that you plan ahead and have everything ready when your guests arrive at your venue. The catering staff will be there with all the proper equipment to ensure that your guests have a great time at your party or event.

During the planning process, you should make sure that you talk with the catering company about what type of food you want to serve at your event. You may want to include some vegetarian options on the menu so that everyone can enjoy their meal during dinner time.

You also want to make sure that there are enough cupcakes or desserts available. This is for people who want something sweet after dinner. Alongside this, you'll want plenty of water bottles for those who may get thirsty during the evening hours.
Choosing the right catering service produces noticeable results
The right caterer will make your party something special. With the right food, drinks and entertainment, you can create a memorable event that is enjoyable for all.

When choosing a caterer, consider the following factors:
The menu —

Make sure the menu includes all of your favorites, such as hot appetizers, salads and desserts. You want to ensure that your guests are getting exactly what they want. It's also important to consider allergies when selecting a caterer. This is because some people may not be able to eat certain foods due to health concerns or dietary restrictions.

The location —

The style of the venue can affect what type of service you receive from your caterer. For example, if you're having an outdoor wedding at a beachfront property, you'll likely want an outdoor catering company. This is so that food doesn't get ruined by rain or melt in extreme heat during warm weather months.

Drinks —

A good bartender will know how much alcohol goes with each dish on the menu. Hence, he can adjust the number of drinks according to what guests are going to be having for lunch/dinner.
Don't let your budget hinder your experiences
You can find a wide range of caterers that provide affordable catering options, like Tikkas & Takkos catering. These catering companies work around your specified budget without compromising on the quality of the food. This in return helps you save up on your event without feeling much of the effects.

You can also negotiate with a few vendors to serve you with food packages. Another thing to keep in mind is that many caterers offer reduced prices for kid's meals. Enquire about these factors to potentially get an even better deal than what you originally planned for. No longer should a budget constraint hold you back from throwing the party of the year for your guests!
The Takeaway
If you want your event to be successful, you need to start the planning process way in advance. Being organized will make a huge difference. One of the most important aspects of your planning is finding the right catering service for your event. Catering services can do much more than just provide great food.

Some caterers also offer guidance as well as event space rentals. The right catering service can assist you in creating a memorable event that guests will talk about for years to come. There are many of them offering affordable catering rates, further making a case for their importance at your event. Hence, contact a professional caterer early on in your planning process so that they can help you create the perfect party!