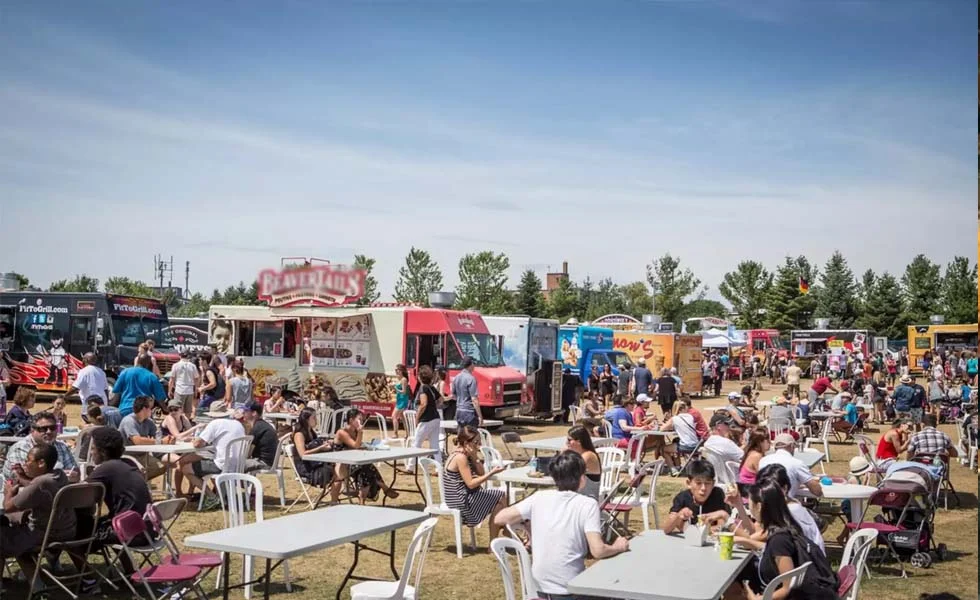 Food Trucks Making Thanksgiving Meals Accessible
With the growing influence of food trucks, Thanksgiving, a beloved holiday rooted in tradition, is experiencing a delectable transformation. These movable kitchens, long known for on-the-go food, are now active participants in the Thanksgiving celebration. Food trucks have developed in recent years from being a simple alternative for a quick bite to reinventing how communities join together to celebrate this day of gratitude. Let's look at how food trucks are making Thanksgiving more accessible, diverse, and memorable for communities around the country.
A Feast on The Evolution of Thanksgiving Feasting
Thanksgiving has always been associated with gathering around static tables overflowing with home-cooked food. Food trucks differ from the usual venue, bringing mobile feasts that bring the Thanksgiving celebration straight to neighborhoods, offices, and community activities.

Food trucks provide a welcoming environment for varied groups to gather and celebrate. Unlike traditional settings, which may be constrained by venue capacity, they can adapt to any place, cultivating a sense of inclusivity that transcends beyond familial relationships.
From Static Tables to Mobile Feasts
Food trucks contribute to a revival of tradition by redefining where and how Thanksgiving meals are consumed. The mobile feasts' dynamic nature adds a fascinating element to the holiday, allowing communities to rethink how they celebrate.

Food trucks inspire communities to think outside the traditional Thanksgiving arrangement. This move disrupts the established quo, sparking innovation in how people gather to express gratitude via shared meals.
Community Connections on Wheels
Food trucks are more than just meal delivery services; they are community builders. Their presence fosters a sense of unity and shared celebration that extends beyond the dining experience, creating a communal setting where families, friends, and even strangers can meet.

Thanksgiving food trucks often bring a fusion of cultures. This combination of varied flavors and traditions enriches the cultural experience, resulting in a one-of-a-kind celebration that symbolizes the community's richness.

Food trucks' movable nature encourages social interaction. Whether it's queuing for a tasty delicacy or sharing a communal table, these encounters generate a sense of unity among community members, strengthening the social fabric of Thanksgiving.
Diverse Menus for Varied Palates
Thanksgiving food trucks are famed for their creative menus, and this year is no exception. These mobile kitchens provide fresh and different Thanksgiving feasts, modernizing traditional cuisine. The selections range from Thanksgiving-themed tacos to turkey sliders, and are as diverse as the communities they serve.

The appeal of food trucks is their ability to cater to a wide range of tastes and preferences. Their varied meals cater to various dietary requirements, so that everyone, regardless of culinary preferences, may enjoy the festivities.
Celebrating Culinary Diversity
Thanksgiving food trucks promote cultural diversity by serving delicious foods from diverse cultures. This variety not only caters to varied preferences, but it also educates and broadens the community's gastronomic horizons.

Chefs are encouraged to experiment with flavor pairings due to the limited space of food trucks. Thanksgiving menus become a canvas for culinary innovation, providing novel combinations that captivate the taste buds and elevate the holiday eating experience.
Accessibility and Convenience
Food trucks minimize the need for complex meal preparations, allowing those with hectic schedules or limited kitchen facilities to enjoy Thanksgiving. Their presence at community activities guarantees that everyone can enjoy the festivities, transforming Thanksgiving into a truly inclusive holiday.

One of the most significant benefits of food trucks is their versatility to any setting. Food trucks can transform any location into a Thanksgiving celebration, breaking free from the limits of typical settings, whether it's an outdoor festival, a corporate event, or a neighborhood gathering.
Thanksgiving Beyond the Kitchen
Food trucks bridge the accessibility gap, delivering traditional Thanksgiving celebrations to locations where they might be difficult. Mobile feasts ensure that everyone can share in the joy of Thanksgiving, from urban areas to rural communities.

Thanksgiving is now available to people of all ages thanks to the mobility of food trucks. Everyone may enjoy the activities, whether they are a family with young children or a group of seniors, because they are not restricted to a specific area.
Supporting Local Businesses
Choosing food trucks for Thanksgiving dinner helps local businesses. These mobile kitchens, which are typically led by enthusiastic chefs, help small businesses flourish while also offering communities with a one-of-a-kind and memorable culinary experience.

Supporting local food trucks improves not only the Thanksgiving experience but also the local economy. The money spent on food trucks circulates within the neighborhood, contributing to the local economy's growth.

For fresh ingredients, many food trucks cooperate with local suppliers. This partnership builds a sense of community while also supporting a network of local companies, resulting in a Thanksgiving experience that is strongly entrenched in the local economy.
Reducing Food Waste
Some food trucks prioritize sustainability, incorporating eco-friendly practices into their operations. With their focus on serving fresh and made-to-order meals, they contribute to reducing food waste.

The mobility of food trucks adds an environmental advantage by reducing the need for individuals to travel to fixed locations for Thanksgiving celebrations. This not only minimizes carbon footprints but also aligns with a more sustainable and eco-conscious lifestyle.
Culinary Innovation:
Food trucks are recognized for their culinary creativity, and Thanksgiving is a great canvas for them. Chefs can experiment with traditional Thanksgiving classics, adding new and interesting twists that captivate the palate and keep the event fresh.

Thanksgiving food trucks provide a venue for the blending of culinary styles. The combination of various cooking techniques and flavors culminates in a culinary show that takes the Thanksgiving dining experience to new heights.

Choosing food trucks for Thanksgiving guarantees a culinary adventure. Communities can explore a variety of culinary delights, transforming the traditional holiday feast into a journey of flavors and textures.
A Moveable Feast
Thanksgiving food trucks contribute to the creation of a joyful ambiance. The sight of these brightly colored mobile kitchens, the perfume of many cuisines, and the shared experience of sharing a meal together all contribute to the holiday atmosphere.

Some food trucks go above and beyond by including entertainment components. Whether it's live music, themed décor, or interactive experiences, these mobile kitchens deliver not just food but a whole entertainment package to Thanksgiving gatherings.
Conclusion
Finally, food trucks aren't just a passing fad in the culinary world; they're becoming a fundamental part of how we celebrate holidays like Thanksgiving. These mobile kitchens are redefining the Thanksgiving experience by providing accessibility, variety, and a feeling of community, demonstrating that a tasty and memorable feast can happen anywhere and for everyone. Thanksgiving is evolving into a celebration that goes beyond tradition, bringing people together through the joy of shared meals on wheels, as we continue to embrace the innovative spirit of food trucks.