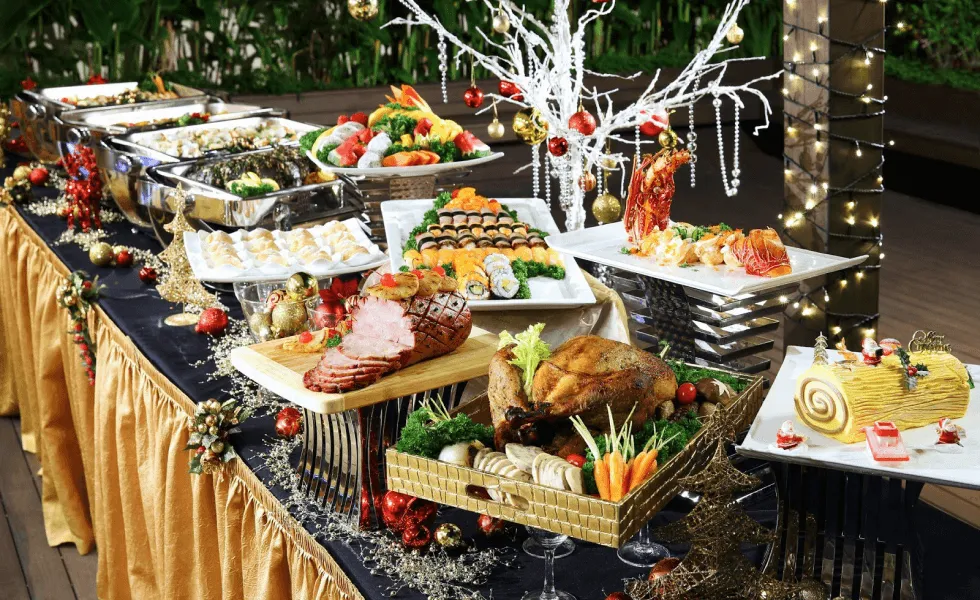 Find caterers in Texas for your Christmas party this year!
With the festive season fast approaching, you're going to need caterers you can depend on in terms of quality & service. However, finding the right catering service near you can pose to be a challenge. The pressure of getting it right for arguably the biggest party of the year can be overwhelming.

The good news is that there are countless options when it comes to Texas catering services. The one we'll discuss today is special as it combines efficacy with efficiency. It allows you to enjoy your Christmas party while being carefree of any arrangements for your guests.
A Cost-effective alternative to your usual caterers
Tikkas and Takkos food truck catering provides you with quality food at affordable rates. They are among the few caterers that place each guest's satisfaction at your event on top. They also provide catering services for all occasions, from small intimate dinner parties to large corporate events. They can cater to any budget and their menus are designed to suit the needs of all budgets.

Their chefs are extremely skilled in the catering industry and have delivered numerous functions across the state of Texas. They provide an excellent service, with a personalized touch at every event, ensuring that all your catering needs are met.

They ensure that their menus are fresh and innovative, offering something new every time you avail of their services. Each recipe is made from fresh ingredients sourced locally whenever possible. Their chefs also work around certain dietary restrictions to create menus that are both healthy and tasty!
Need something a little different? No problem, this caterer can make a custom menu just for you
A custom menu can be just what you need to make this year's Christmas party special for all your guests.

If your guests have dietary restrictions, like vegetarian or gluten-free, you may be wondering how to accommodate all these people. A customized menu will allow you to do exactly that.

You can even use this approach if you want to include foods that are difficult or impossible to find at local caterers. Like if you want a gluten-free option but don't want to go searching for it, this caterer can help! They offer gluten-free desserts, tortilla wraps, and more on their catering menu.

They'll also work with you to create a custom food menu that fits in with the rest of the day's activities — whether it's a cocktail hour or dinner served by candlelight in one of your beautiful venues!
Why you should opt for mobile food truck caterers
If you're fed up with the same old catering services, you'd be wise to consider hiring a mobile food truck caterer.

Why? Because it's cheaper than traditional catering, there are many more options and they can save your event from falling flat on its face.

The first thing to keep in mind when considering a mobile food truck caterer is that you don't need as much space as a traditional catering service. This means that you can hire them for smaller events where you only need a couple of dishes, or you can use them for large events with many guests.

The second thing to keep in mind is that mobile food trucks can be customized to suit your needs and budget. You don't need to hire them off the shelf; they'll work with you to create something unique and exciting that matches your event perfectly.

Finally, mobile food trucks cost less than traditional catering services because they don't have many fixed costs like electricity or gas bills (although some will still charge for them). Even though finding food trucks catering Texas might seem difficult, its really simple. You can find a range of them offering many different cuisines to add another layer to your event.
Ready to make a decision? Book early to avoid problems
You have a lot to prepare for your christmas party. You have the food, drinks and decorations to plan. You also have to make sure that the caterer you choose will meet all of your expectations. When you book your caterer early, you can get some great discounts. Doing this also helps you to deal with any last minute problems before they become an issue.

You'll be able to compare prices between different caterers and find one that fits within your budget. This way, you won't have to worry about paying more than you should or having to find another caterer later on.

If you book your caterer early, it's easier for them to get their materials ready in advance so that they'll be ready when it's time for setup day. This makes things run much smoother and reduces stress on everyone involved.

You'll save money by booking early because there are usually times when prices are lower during this time of year. You can also find some amazing deals if you wait until closer to the date of your party, so don't feel pressured into booking too far ahead of time!
This is the caterer to book for your Christmas party this year!
Catering a large Christmas party can be a headache but with the right caterer you will be able to enjoy the party rather than worry about last minute details. Tikkas and Takkos catering company is exactly what you need. They are professionals and will be able to serve your guests with professional quality food at the best price, flexible payment plan and on time delivery.

All you have to do is get a few of your friends together and make all the other plans for your party, like decorations and music and drinks, while the caterers focus on serving you with delicious food. Since you've hired the best Texas catering service, you can rest assured that your party will be memorable this year.

That's all for this blog though, signing off with a lot of well wishes for you on Christmas this year!