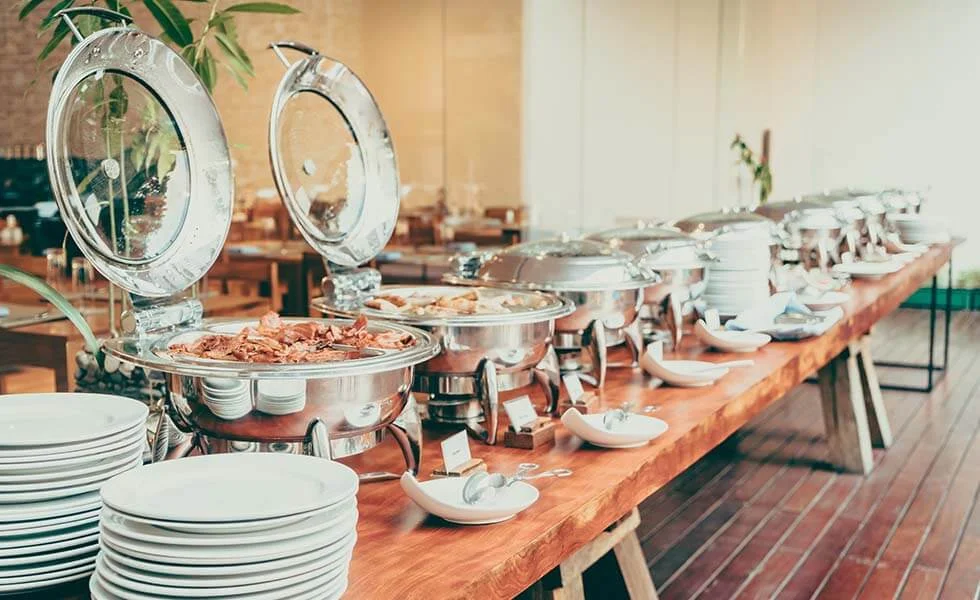 Affordable Catering: Useful Ideas For a Budget-Friendly Party
Affordable catering is a necessity for every event in these times of inflation. Catering on a tight budget can be quite a challenging task. However, it's not as impossible as you think. With the right ideas, you can make your party successful and memorable. It's all about being sharp-witted and practical.

This article will help you discover some useful tips and tricks for a tight-budget party. We, as an affordable catering service, know how much these tips help make any party a big hit, so have some faith and keep reading!
1. Economic decor but a diverse menu
Versatility is a big ally when it comes to throwing a party. You cannot pull off a party with a single- or double-dish menu. It has to be a little diverse. When the guests are offered an array of food options, they'll be totally satisfied with your hospitality.

You must be wondering how a diverse menu can save you money. Don't worry; we will help you understand the logic behind it. When it comes to parties, the only thing people look forward to is the food. Yes, the other factors matter too, but food reigns supreme. 80% of the guests don't care how expensive your venue is or how much you spend on the decor. They will always see what kind of food is served to them. So the first practical thing you can do is cut back on the expensive decorations and spend more on the food options.

Our catering service provides a plethora of inexpensive food options, from Tex-Mex food to Indo-Pak delights.
2. A buffet with self-service
Our second important tip is to have self-service at your party. Where buffet catering has a wide range of food options, self-service adds the cherry on top. Guests will be more than pleased to serve themselves whatever they like. It creates an air of friendliness among the guests as they chat while putting food on their plates.

Sit-down meals can add a significant amount to your already tight budget. Having a staff at the party that serves each and every guest in their seats is going to cost you a fortune. As an American resident, you must be well aware of the tipping trend in the catering industry. In this scenario, the best thing is to have buffet catering with self-service.
3. Accurate guest list to save money
Inaccurate or overestimated guest counts frequently result in disasters. Being the top caterers in Houston, we are well aware of the common mistakes people make when reserving catering for an event. And the outcome is always a crisis for the hosts as well as the catering staff. It is your duty as the host to provide an accurate guest list. Once the guest count is known, it will be much easier for you to make further preparations.

Going overboard with your food quantities could bankrupt you. As previously stated, variety is wonderful, but excessive amounts of it are harmful. Knowing how many people you're expecting is a more sensible approach. All of your events will proceed smoothly if you do this. Less food, utensils, furniture, and tables can be ordered this way.
4. Order food truck catering
Off-site catering or traditional catering services will not prove helpful if you want to save money. They will charge extra for transportation and delivery at the venue. Especially if your venue is far away from their location. you will have to pay a hefty price for the transport charges. But all that trouble can be dealt with if you order food truck catering. The mobile kitchen will come to you and serve you sizzling hot food without any extra charges.
5. Don't hire a clean-up service
Some catering companies don't offer venue setup and cleanup. It falls on the host's shoulders to hire cleaners for the after-party cleaning. If you want to avoid spending money on a cleaning service, you have two alternatives. Either you complete the task yourself or you can hire a full-service caterer for the party. Your venue's setup and cleanup can be handled by the team. The headache of cleaning up can be spared at an affordable price!
Read More: Save Money Without Sacrificing Quality With Affordable Wedding Catering
Final Thoughts
We are aware of the challenges involved in organizing events on a tight budget. You can spend less and throw a great party with this simple guide. Our top-tier catering service is your go-to solution for a delightful party, whether it's a corporate event, wedding, or small gathering.